Stairlifts, Chairlifts, Home Elevators, Stair Chair, Stair Lift & More in Bloomington, Indiana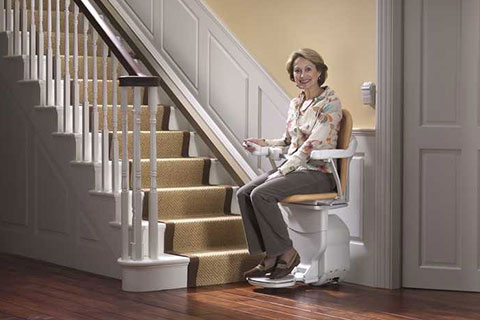 Quality, Affordable Home Elevators and Stairlifts in Bloomington, IN
We provide stair lifts and residential elevators to Bloomington, Indiana residents, and this is a service that is becoming more and more relevant. The population is aging because the baby boomers are getting older, and most senior citizens are going to face mobility issues eventually. If you live in a house with multiple stories, the stairs can become quite a challenge. The right chair lift for stairs can transform your experience in your home if you have difficulty getting around, and we are here for you if you're ready to take action.
Custom Home Elevator and Lift is a company that has a great deal of experience and expertise in the stair chair and residential elevator business. Our brain trust has over 100 years of combined experience in the mobility industry, and we have always evolved as stair lift technology has advanced. Speaking of experience, we are proud of our background, but we also sought out a stair lift provider that could demonstrate a long history of excellence. We want to offer our customers the best stair chairs at the best possible prices, so the supplier that we use is important to us.
Our partner is Stannah stairlifts, and they were founded as a company that provided marine lifts in the 1860s. In middle of the 1970s, they decided to devote considerable resources toward the development and production of state-of-the-art residential stair lifts, and they have risen to the top of the industry. We are a factory authorized Stannah chairlift dealer, so you will get a fully warrantied, high-quality stair lift at the best possible price if you work with us to improve  your in-home mobility. If you're ready to buy a chairlift for stairs, we have you covered, but we also offer stair lift rentals if you would prefer to go in that direction.
Residential Elevators: Immediate Returns on Your Investment
In addition to our stair chair offerings, we also sell and install residential elevators. A home elevator can solve a mobility problem, but residential elevators can be of value to many home owners who are not incapable of stair climbing. Plus, we also offer commercial elevators to businesses in and around Bloomington, Indiana.
Let's Talk About Your Home Mobility Needs!
If you are ready to discuss your home mobility needs with one of our home elevator and stair lift consultants, call us toll-free at 800-730-5438 (LIFT).