Stairlifts, Chairlifts, Home Elevators, Stair Chair, Stair Lift & More in Muncie, Indiana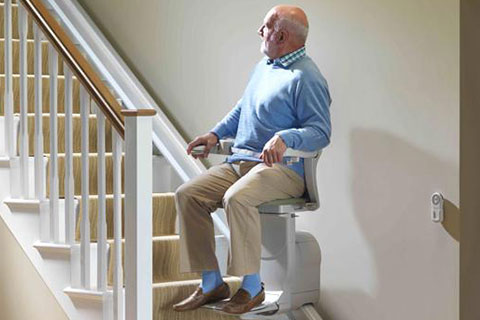 Custom Home Elevator and Lift: Muncie, Indiana Stair Lift and Home Elevator Experts
When you find it difficult to negotiate the stairs in your Muncie, IN home, a chair lift for stairs can change everything. Suddenly, you don't have to take pause and make a big decision before you decide to go up or down the stairs to get something that you need. A stair chair installation can bring back your mobility, and the physical benefits are plain to see. At the same time, it can be emotionally stressful to feel limitated in your own home. A brand-new stair lift can lift you physically, but it can also elevate your mood on a day-to-day basis.
We are Custom Home Elevator and Lift, a long-standing home mobility company with many years of industry experience. Our stair chair technicians are factory certified, and we are a factory authorized Stannah chairlift delaer. If you are not familiar with this company, Stannah has risen to the top of the heap among stair lift companies. They have a wide range of offerings to accommodate different stairway angles, and they stand behind their products with sound warranties. Our Muncie, Indiana stair lift experts can and will gain an understanding of your needs, explain your options to you, and help you make a fully informed decision. Plus, if you would prefer to rent a stair chair, we offer stair lift rentals.
Muncie, IN Home Elevator Solutions
When you come to the conclusion that you need a more convenient way to navigate the stairways in your home, a home elevator may sound like an appealing solution. Without question, a residential elevator can make all the difference, and of course, a home elevator can transport people. At the same time, you can also get things like furniture, appliances, laundry, and groceries from point A to point B effortlessly with a home elevator. We are expert residential elevator installers, and we source our home elevators from industry leaders, so we are here to help if you are looking for a residential elevator.
Why Live With Limitations?
Mobility limitations greatly reduce the quality of your life, and you can start to put an end to it if you make a simple phone call. Our Muncie, Indiana stair lift and home elevator specialists are standing by right now to answer your questions and arrange the next step if you decide to go forward. You can call us toll-free at 800-730-5438 (LIFT).