Stairlifts, Chairlifts, Home Elevators, Stair Chair, Stair Lift & More in Newark, Ohio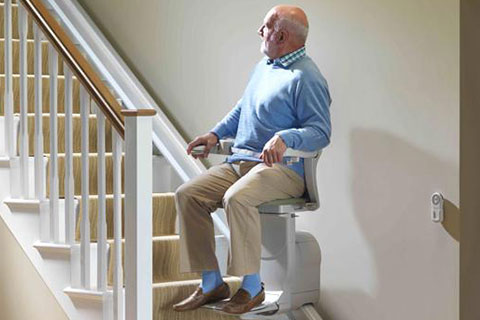 Newark, Ohio Chairlift and Residential Elevator Sales and Installation
When you start to dread trips up and down the stairs due to mobility issues, it's time to consider a stair chair installation. The professionals here at Custom Home Elevator and Lift have been providing stair lifts for Newark, OH homeowners for years, and we bring over 100 years of combined experience to the table each and every day.  If you decide to work with us to have a chair lift for stairs installed into your home, you will get an expert installation from a factory trained technician. The stair lift will radically improve your quality of life, and it will serve you well for many years to come.
Why are we confident about the efficient operation of the stairlifts that we provide for our customers? Throughout the years that we have been building on our wealth of experience, we have done a great deal of research into the companies that manufacture stair chairs. We ultimately decided that Stannah makes the best chairlifts on the market today, and we are a factory authorized Stannah dealer. You get nothing but the best when you work with us to improve your mobility, but we also provide value. Our relationship with Stannah chairlifts allows us to get good prices, and we pass the savings along to our Newark, Ohio stair chair customers.
We should also let you know that we offer stair lift rentals, so we can accommodate you if you would like to get yourself a chair lift without making the commitment to purchase one outright.
Top Quality Residential Elevators
A chair lift is a focused solution that can be ideal under certain circumstances, but people who are looking for a broader, more comprehensive mobility solution often opt for residential elevators. A home elevator can get you between floors if you have trouble negotiating stairs. At the same time, a home elevator can also be a home improvement that makes life easier, even if you have no mobility limitations.
Contact Our Newark, Ohio Home Elevator & Stair Lift Consultants
If you reached this webpage, you are looking for a Newark, Ohio stair chair or home elevator resource, and you have definitely landed in the right place. We are standing by to answer all of your questions and help you explore your options. To take the next step, call us right now toll-free at 800-730-5438 (LIFT).