Stairlifts, Chairlifts, Home Elevators, Stair Chair, Stair Lift & More in Sidney, Ohio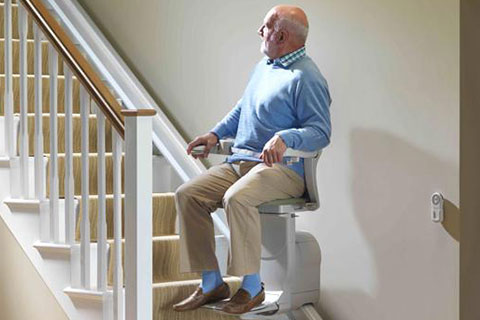 Custom Home Elevator and Lift: Sidney, Ohio Stair Lift Solutions
A stair chair installation can seem like something that is not relevant to you when you are younger. This is understandable, but in fact, mobility becomes a challenge for many people in Sidney, OH, and a stair lift can provide a solution. You may be surprised to hear that the majority of seniors will someday need some form of living assistance, so a properly installed chair lift for stairs can allow a senior to remain in his or her home. Since assisted living facilities are very expensive and unfamiliar to new residents, a stair chair can be an investment that ultimately saves money in the long run.
The people here at Custom Home Elevator install top-quality stair lifts into Sidney, OH homes, and we have a thorough understanding of the architecture that is typically found in this area. This is an important consideration, because staircases can have varying characteristics. Landings can also have tricky shapes. The stair chairs that we source come from the Stannah company. This name may not mean much to the typical layperson, but within the mobility industry, Stannah is a name that is synonymous with high quality chairlifts for stairs. They have been producing industry-standard stair chairs for over 40 years, and they understand the needs of homeowners. Their offerings are carefully crafted to address various different angles of staircase curvature, so you can definitely find the ideal chairlift if you work with us to make your life easier.
Your Sidney, Ohio Residential Elevator Specialists
We did not choose the name of our company lightly. Custom Home Elevator and Lift is just that: a premier provider of residential elevators for Sidney, OH homeowners. A residential elevator can provide a comprehensive mobility solution for everyone in the family, but the value of a home elevator does not stop there. Under the right circumstances, a home elevator can beautify the interior of your home, and the elevator can make it easier to get around even when you have no particular mobility challenges. Plus, your home value increases when you install a residential elevator, so you enjoy the benefits, but you are also making a sound financial investment.
Put the Procrastination Behind You!
If you have been dragging your feet as you struggle up and down your stairs, now is the time to take action. You can contact one of our Sidney, Ohio home elevator and stair lift specialists at 800-730-5438 (LIFT).