Stairlifts, Chairlifts, Home Elevators, Stair Chair, Stair Lift & More in Columbus, OH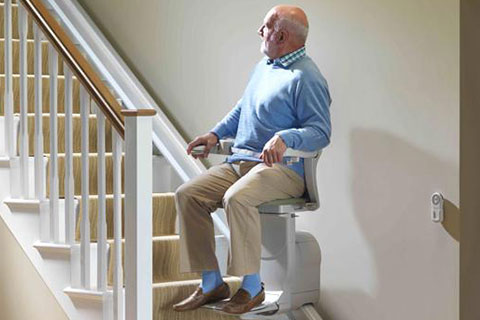 Citizens of Columbus, OH rely on Custom Home Elevator & Lift for all of their mobility and accessibility equipment including stairlifts, home elevators, and chair lifts. Whether you spend your days running a modern art gallery in the Short North, volunteering at the gardens in Topiary Park, or working at one of the prestigious research and technology institutions in our growing metropolis, you can rely on our friendly staff to provide you with individually customized home mobility solutions. We are members in good standing with the N.A.E.C. (National Association of Elevator Contractors), are an insured and bonded company, and your increased home mobility is our passion.
Custom Home Elevator & Lift of Columbus, OH provides state of the art commercial and residential elevators, chairlifts for stairs, dumbwaiters, and more. We are committed to making your home environment as enjoyable, comfortable, and accessible as possible so that you can live your best life in Columbus, OH. From the southern German Village to the eastern Franklin Park area, residents of Columbus, OH who need stairlifts, home elevators, and chairlifts rely on Custom Home Elevator & Lift. Our mobility solutions will add greater ease and comfort to your everyday tasks and plans. For example, the dumbwaiter takes the strain out of moving laundry throughout the house. The custom residential elevators we offer improve your vertical mobility and lifestyle flexibility at home, and are stylish and quiet as well. Our chair lifts for stairs, used stair lifts, and stair lift rentals can restore your home independence safely and efficiently, and can be installed in about half of a day.
At Custom Home Elevator & Lift, we believe in a strong team-building mentality, and that is why teamwork is one of our company's core values. We expect a high level of commitment from our team members and we offer them personal, financial, and professional awards and opportunities. This atmosphere of high expectations and generous support produces engaged employees who are enthusiastic about expertly serving and satisfying one customer at a time. Our other core values are integrity, commitment, and client focus, and we offer these as well as over a century of combined experience to our customers in Columbus, OH. We are proud to offer high-quality mobility equipment in Columbus, OH and if you are interested in learning more about our customizable stairlifts, home elevators, and chairlifts, please contact us today.
Custom Home Elevator & Lift Co
545 Metro Place South Ste. 100 Dublin, OH 43017
Tel: 614.408.8051