Stairlifts, Chairlifts, Home Elevators, Stair Chair, Stair Lift & More in Delaware, Ohio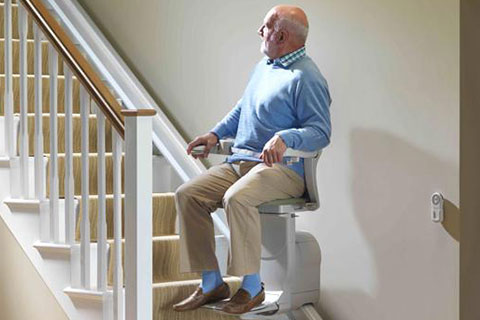 Your Turnkey Resource for Delaware, Ohio Stairlifts
Thanks for stopping by the Custom Home Elevator and Lift page that has been designed to provide information to our Delaware, OH chairlift customers. We take a lot of pride in the mobility solutions that we offer, and we want all of our clients to be completely satisfied from the moment that they speak with one of our stair chair experts. You build your business through the good things that your customers say about you to others, and we have developed a strong reputation over the years. If you want a chairlift for stairs that will suit your home and withstand the test of time, Custom Home Elevator and Lift can satisfy your needs.
It All Starts With Quality
They say that you can't make a silk purse out of a sow's ear, and this is certainly true when it comes to a chair lift for stairs. We have a great deal of experience and expertise installing stair chairs, so our technicians are second to none. At the same time, if you don't work with quality products in the first place, there is only so much that a skilled technician can do. Custom Home Elevator is a factory authorized dealer of high quality Stannah chairlifts. This is an industry leader, and they have sold over 600,000 stair lifts since 1975. Their products consistently satisfy our customers, and they are fully warrantied, so you can buy with confidence.
There are people here in Delaware, OH  who are interested in stair chairs who don't take action because they assume that the unusual configuration of their staircase will get in the way. This need not be a concern. There are Stannah stair lifts that have been manufactured to accommodate various different angles and curves. We should also point out the fact that we offer stair lift rentals if you feel as though this would be a better choice for you or a loved one.
Delaware, Ohio Home Elevator Sales and Installation
Our mobility solutions extend beyond the top-quality chairlifts that we provide for our customers. In some cases, a residential elevator is a better solution, and there are many benefits to be gained through the installation of a home elevator. Once again, we source top quality products, and our technicians have what it takes to complete your residential elevator project in a timely, effective, and efficient manner.
Get in Touch!
If you are ready to get started, call one of our Delaware, OH stair lift and home elevator specialists toll-free at 800-730-5438 (LIFT).