Stairlifts, Chairlifts, Home Elevators, Stair Chair, Stair Lift & More in Chillicothe, Ohio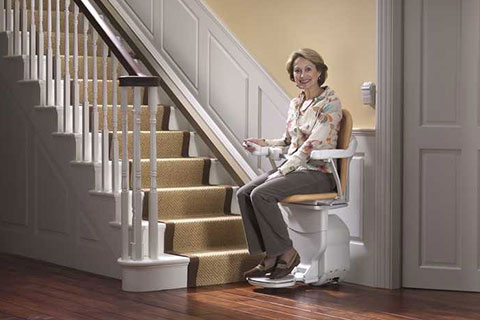 We Are Your Chillicothe, Ohio Stairlift and Home Elevator Experts
If you are looking for a home elevator or a stair chair as a resident of Chillicothe, Ohio, you have found the right website. We are highly experienced, committed professionals, and we have the expertise that it takes to install the proper chairlift or residential elevator into your Chillicothe home. No two jobs are exactly alike, because each home is configured differently, and people have various different needs. This is where training and experience come in. We have seen it all over the years, and we can provide a chairlift solution for you, regardless of the way that your staircase is angled.
Top Quality Stannah Stair Lifts
We want to be certain that the chairlifts for stairs that we install for our Chillicothe, OH customers will be reliable over the long haul, so we source nothing but the best. Custom Home Elevator is an authorized Stannah stairlift dealer. This is a company that is very highly regarded within the mobility industry. They started out providing commercial lifts back in the 1800s, and they have been a family-owned company every step of the way. In 1975, they started developing high-tech chairlifts for private homeowners, and then never looked back. Stannah stair chairs are second to none, and they are fully warrantied, so they stand behind their work. As an authorized Stannah dealer, we can sell you a chairlift, but we also offer stair lift rentals.
Residential Elevator Installations in Chillicothe, OH
A stair lift can be the ideal solution for an individual with mobility challenges, but each case is different. For some people, a residential elevator will be a better choice, and a home elevator can have value for people who don't have mobility challenges. You make an investment in your home when you have a residential elevator installed, and you also improve your quality of life.
We are here for you if you are looking for a home elevator, but we also serve businesses here in the greater Chillicothe area. If you are looking for a commercial elevator, or a material lift for your warehouse or distribution center, we can provide the appropriate solution.
Let's Get to Work!
Custom Home Elevator is the provider of residential elevators and stair lifts that Chillicothe, Ohio can rely on for quality products and top-notch service. If you are ready to address your home mobility challenges head-on, call us right now toll-free at 800-730-5438 (LIFT).