Stairlifts, Chairlifts, Home Elevators, Stair Chair, Stair Lift & More in Cincinnati, OH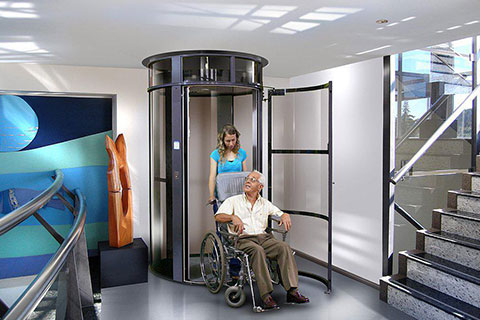 Custom Home Elevator & Lift takes great pride in providing the citizens of Cincinnati, OH with chairlifts, home elevators, stair lifts, and other equipment that can increase mobility and ease at home. Cincinnati, OH is a city rich in culture and beauty. From the Cincinnati Museum to the Great American Ball Park, home to the Cincinnati Reds, the oldest major league baseball team in the US, opportunities for enjoyment abound. At Custom Home Elevator & Lift, we believe our customers in Cincinnati deserve the very best customer service and we offer courteous, individualized care.
With over 100 years of combined experience, the professionals at Custom Home Elevator & Lift are an established Cincinnati, OH landmark. Our staff members are ready to serve as guides, advisors, and educators as you choose the perfect mobility system for your needs. Whether you need a state of the art stairlifts, dumbwaiter, wheelchair ramp, home elevator, chairlift, or stair lift in Cincinnati, OH, you can rely on Custom Home Elevator & Lift. Our offerings of comfortable stair lifts for stairs can be fitted to any set of stairs and can also be folded and swiveled when need be. Residential elevators are another luxurious option we offer and are a high-quality, worthy investment in your vertical mobility at home. Our dumbwaiters can be invaluable in easing the burden of unloading shopping and transporting heavy laundry. As well as providing expert local stair chair lift installation and the service of Certified Accessibility Technicians, we provide trouble shooting, service, repair, and maintenance on used stairlifts. We are also proud to include a Certified Aging-in-Place Specialist on our team who sole focus is to help you remain in your preferred home location.
Regardless of your mobility need in Cincinnati, OH, we are passionate at Custom Home Elevator & Lift about helping you to become more mobile and satisfied in your home life. In Cincinnati, OH, residents can ride street cars, drink local microbrews, and visit the famed Cincinnati Zoo. When they need home mobility assistance, they trust Custom Home Elevator & Lift to provide expert service. We approach each opportunity to work with a customer as a valued individual relationship and serve them in line with our core values of client focus, commitment, teamwork, and integrity. Locals in Cincinnati, OH rely on Custom Home Elevator & Lift for expert installation and maintenance of mobility and accessibility equipment. Our experienced staff is eager to answer any questions you may have regarding chairlifts, home elevators, and stair lifts in Cincinnati, OH.
Custom Home Elevator & Lift Co
11431 Williamson Road Ste. B Cincinnati, OH 45241
Tel: 513.583.5910