Stairlifts, Chairlifts, Home Elevators, Stair Chair, Stair Lift & More in Richmond, Indiana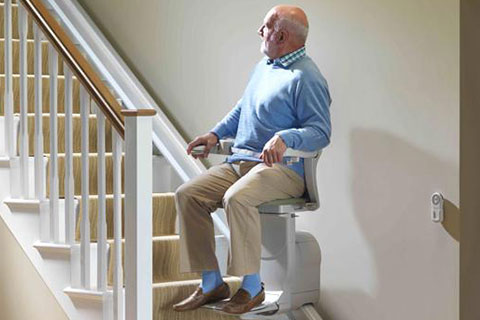 Richmond, IN Stair Chair and Home Elevator Providers
A home elevator or stair lift installation can have a transformational effect on your life, or the life of a family member with mobility challenges. Suddenly, climbing the stairs is no longer an issue, and you wonder why you did not take action sooner.
If you are looking for a stair chair company in Richmond, Indiana, Custom Home Elevator and Lift is standing by to assist you. We are highly experienced professionals, and we are very passionate about the mobility solutions that we provide for our neighbors here. Our stairlift experts can and will explain all of your options to you so you get the chairlift that is ideal for you, your home, and your budget.
A chair lift for stairs is going to be a big purchase that you will be relying on into the foreseeable future, so the qualityof the stair lift is key.  Our stair chair technicians are expert installers, and they are factory certified. However, a skilled technician cannot overcome the limitations of a poorly constructed piece of merchandise. This is never a problem when you work with Custom Home Elevator and Lift. We provide our customers with top quality Stannah stair chairs, and they come with very solid warranties. These chairlifts are the industry standard, and our customers consistently tell us how happy they are with the quality of the stairlifts that we install. Plus, we also offer stair lift rentals for Richmond, IN residents who would like to rent a stair chair.
Richmond, Indiana Residential Elevator Solutions
When you need a more comprehensive mobility solution, you could consider a home elevator. Residential elevators can move any number of people, and those who are in wheelchairs could certainly benefit from a home elevator installation. Clearly, a residential elevator can accommodate people with physical limitations. However, even if you have no mobility challenges at the present time, a home elevator can be a home-improvement that makes life easier for you and your family.
Speak With a Richmond, IN Stair Chair Specialist
We greatly value communication when we provide service to our customers, and it starts when you call us for the first time. Our customer care specialists have a great deal of knowledge about the stairlifts and residential elevators that we offer, and they can answer all of your questions for you.
If you are ready to get started, call us toll-free at 800-730-5438 (LIFT).