Stairlifts, Chairlifts, Home Elevators, Stair Chair, Stair Lift & More in Louisville, KY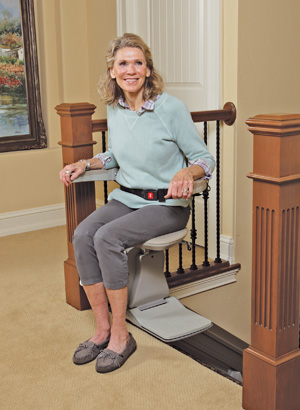 In Louisville, KY, numerous high-quality stairlifts, home elevators, and chairlifts are available from the experts at Custom Home Elevator & Lift. Custom Home Elevator & Lift is proud to serve Kentucky's largest city in all of its southern, river side charm along the Ohio River. Louisville, KY citizens and visitors can enjoy a ride on the free trolley, a cruise on the Belle of Louisville steamboat, or an exploration of the urban bourbon trail. When they need to improve the mobility and accessibility of their homes in Louisville, KY, they rely on the committed and courteous professionals at Custom Home Elevator & Lift to provide them with customized elevators, wheelchair ramps, useful specialty lifts, and more.
Whether you've returned home from an exciting trip to the Kentucky Derby at Churchill Downs or are enjoying watching the race on TV with some friends, we believe that you deserve to have a comfortable, independent, and supportive home environment. One sure way to achieve this kind of home lifestyle and maintain maximum mobility, even as you age, is to invest in one of our affordable, high-quality stairlifts, home elevators, or chairlifts. We employ expert technicians and our organization has over a century of experience in the field of mobility and accessibility equipment. Our Certified Aging-in-Place Specialist and all of our team members are passionate about helping you achieve the most mobile and fulfilling life possible in your Louisville, KY home.
After a divine dinner at a spot along the three-mile stretch that contains the Highlands, you can return to your residence to find a home that is ready to serve you with customized mobility equipment. Use one of our dumbwaiters to move heavy shopping bags. Achieve superior vertical mobility in one of our stylish residential elevators. Our home stair lifts can be modified to suit any type of indoor or outdoor stairlift, including those that curve and have landings. We even offer used stairlifts, stairlift rental, stairlift maintenance, and stair lift parts and inspection in Louisville, KY. If your Custom Home Elevator & Lift mobility equipment is in need of repair, we are available to you 24/7. We function in line with our core values of integrity, teamwork, commitment, and client focus, and are ready to provide you with the custom stairlifts, home elevators, and chairlifts you need in Louisville, KY.
Custom Home Elevator & Lift Co
10200 Forest Green Blvd. Ste. 112 Louisville, KY 40223
Tel: 502.357.1094