Stairlifts, Chairlifts, Home Elevators, Stair Chair, Stair Lift & More in Columbus, Indiana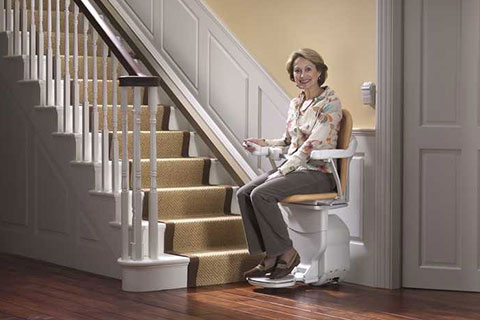 We Are Your Reliable Columbus, Indiana Chairlift and Residential Elevator Specialists
You probably reached this page because you are looking for a trustworthy Columbus, IN stair chair and home elevator resource. We can honestly say that you have landed in the right place. Our company, Custom Home Elevator and Lift, places an emphasis on customer satisfaction on every conceivable level. We want you to feel comfortable speaking with us from the outset when you discuss your home elevator or stairs chair installation project with one of our consultants. Once you decide on a particular stair lift or residential elevator, our technicians will install the product into your Columbus, Indiana home with efficient precision.
Factory Authorized Stannah Stairlift Dealer
The company that manufactures your stair lift is going to be a very important part of the equation, and we make sure that our customers get stair chairs that are going to withstand the test of time. Stannah is a company that everyone in the home mobility community has a great deal of respect for, and we are a factory authorized Stannah stair chair dealer. They manufacture products that are designed to function optimally depending upon the configuration of the staircase in question, so you will definitely be able to find a stair chair that will work for you and the configuration of your home.
In most cases, a stair lift purchase will be the best choice. However, there are situations that call for a chairlift rental. If you are looking for a Columbus, IN stair chair rental, we can certainly accommodate your needs.
Columbus, Indiana Residential Elevator Installations
As we have stated, quality is very important to us when it comes to stair chairs, and we also source top-quality residential elevators. A home elevator can get you, your family, and your stuff around your home effortlessly, and this is true whether you have a mobility issue or not. The investment that you make into your home elevator goes right into your pocket while you reap the rewards on a day-to-day basis, because your property value will immediately increase.
Now Is the Time to Take Action!
If you have been dealing with difficulty getting up and down stairs in your home, there is no reason to continue to live with this type of challenge. A home elevator or stair lift can absolutely transform the experience that you have in your home, and an ongoing problem that never goes away is finally solved.
Our knowledgeable stair lift advisers are standing by to assist you. Call us toll-free at 800-730-5438 (LIFT) to take the first step toward ease of mobility.