Stairlifts, Chairlifts, Home Elevators, Stair Chair, Stair Lift & More in Springfield, Ohio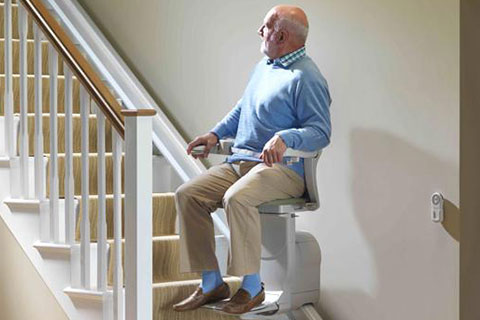 The Trusted Source for Home Elevators and Chairlifts in Springfield, Ohio
When you provide residential elevators and stair chairs as a profession, people are placing a lot of trust in you. If you have a mobility challenge, a stair lift or home elevator is going to be your lifeline, so you need a quality product, and it must be installed impeccably. We understand this dynamic thoroughly, and we take our responsibility to our  Springfield, OH chairlift and home elevator customers to heart. When you work with Custom Home Elevator and Lift, you will receive the top notch customer service that you deserve every step of the way.
You have a lot of choices to make if you are looking for a chair lift for stairs or a residential elevator, and most people don't know a great deal about the offerings that are out there. Our knowledgeable stair lift experts explain everything thoroughly to our customers so they can make fully informed decisions. One thing that you will learn if you discuss your mobility needs with us is the fact that we source our chairlifts from the Stannah company. This is a highly respected producer of stair chairs, and it is a company that has been in business for over 140 years. They design and manufacture chairlifts that can accommodate different angles, because there is no one universal staircase design. You get top-quality products that are adaptable to suit the specifics of your home when you purchase a Stannah stair chair, and they come with factory warranties.
Springfield, OH Home Elevator Experts 
A stairlift is the right choice for some people, but others would be better served through the installation of a residential elevator. If you would like to have a home elevator installed, we have quality products on hand, and we have the expertise that it takes to handle any type of residential elevator project. We also sell and install commercial elevators and material lifts.
Now Is the Time to Act!
If you have been struggling up and down your staircase, now is the time to take action so that you can get from floor to floor comfortably once again. We can provide you with the home elevator or chair lift that is right for you, and we also offer stair lift rentals. Our knowledgeable Springfield, Ohio chairlift experts are standing by to help, and you can reach them toll-free at 800-730-5438 (LIFT).