Do you have an elderly person living in your home who has problems with mobility? Do you have a recovering patient living with you? If you are looking for new and improved chair lifts for stairs, you have come to the right place. Custom Home Elevator and Lift Co., Inc. Has quite an impressive line of various kinds of chairlifts to fit each kind of stairway. With us, you can forget about the burden of moving up and down the stairs as we help you improve your indoor mobility with our products. We have a team of experienced and highly knowledgeable professionals who will help the people of Kokomo, IN, Richmond, IN, Anderson, IN, Chillicothe, OH, Indianapolis, Newark, OH in choosing the perfect product for your home based on your needs and requirements.
Below we have mentioned 2 common kinds of chairlifts for stairs available with us. Take a look.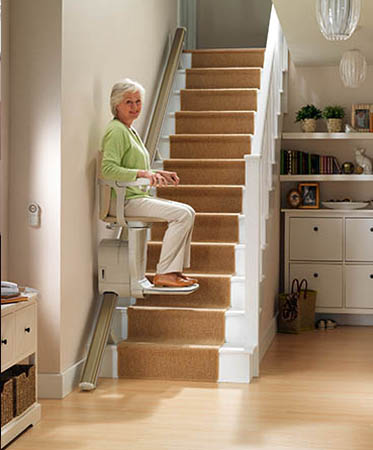 Straight stairlifts
This is by far the most preferred choice due to its convenience and easy technology. In the case of straight stairlifts, even the elderly people that use this can go up and down the stairs effortlessly without the risk of tumbling down or falling. Stannah 600 Siena, Stannah Siena One, and Bruno ELAN SRE are some of the products we have to offer our customers.
Curved Stairlift
With modern house designs paving in many buildings has curved stairways. For these people, we have come up with an impressive inventory of curved chairlifts like the Bruno and the Stannah chair models. We even make custom-made rails in order to accommodate the chair to your unique staircase. We make sure that the stairlift fits your staircase without compromising on the style of your home.
So, if you are looking for a new chairlift to install in your stairway, you can get in touch with us at one period 800. 730. 5438 (LIFT)