Chairlifts are convenient and comfortable to use. With the push of a button, the chair glides up and down a track between floors. The seat bottom and footrest fold up easily to make room for others to use the stairs, and the swivel seat rotates away from the steps at the top of your landing, allowing you to safely board and exit your lift. Allow Custom Home Elevator to assist you in regaining confidence in your ability to use your stairs. We believe in safety and comfort and that is why we have come up with all the finest innovations and devices that will make your life a little hassle-free. Therefore, we have laid some points of why choosing us will make it an easier option: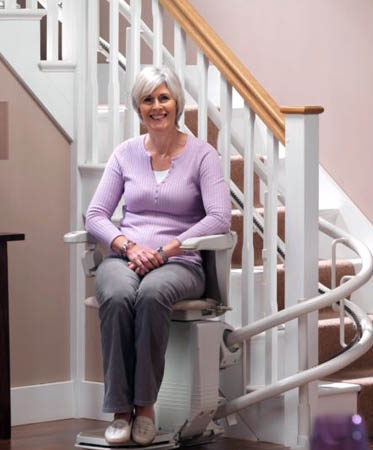 Custom Home Elevator makes owning and using a Chairlift simple. Chairlifts are frequently mounted directly onto the stairs rather than on the wall. The lift is operated by pulling a toggle or turning a switch in the direction you want to go; when you let go, the chair stops. The amazing thing about Custom Home Elevator chairlifts is that, while they're plugged into a conventional power outlet for monitoring and charging, they're battery operated, so they'll work even if there's a power outage.
We provide a variety of chairlift alternatives, and we make purchasing your stairlift simple: buy new or reconditioned items, engage in our buy-back program, lease your stairlift, or rent one.
Custom Home Elevator's home chairlifts are practical, economical, and the ideal way for you to age in the comfort of your own home.
We can assist you in regaining your independence for those that reside in Muncie, IN, Louisville, Delaware, OH, Columbus, OH, Dayton, and Indianapolis areas. Custom Home Elevator wants you to feel safe and secure in your own space. For a free consultation, contact us today. We'll bring our showroom to you