Stairlifts, Chairlifts, Home Elevators, Stair Chair, Stair Lift & More in Kokomo, Indiana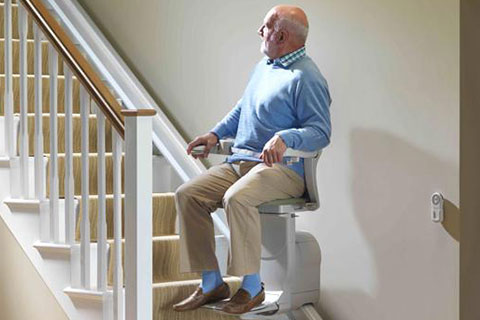 Custom Home Elevator & Lift: Your Kokomo, Indiana Chairlift Resource
Mobility is a precious thing, and we are fortunate during our current era, because a modern stair chair can provide a mobility solution. If you work with our company to have a stair lift installed into your Kokomo, IN home, you can rest assured that the job will be done right. We take a great deal of pride in our stair chair installation work, and our technicians are highly experienced, committed experts. There is no reason to be concerned about the way that your staircase is shaped, because we have seen it all, and we have stair lift solutions that are designed to negotiate different angles.
The expertise of the installation technician is an important part of the chairlift equation, but the stairchair itself is equally important. We source our stair lifts from Stannah, a company that is an industry leader. They stand behind their products with a very solid warranty, and over the years we have found that our customers are very satisfied with the Stannah stair lifts that we offer. There are many different options, so you will certainly be able to find the stair chair that is right for you. We also offer stairlift rentals, so we can accommodate your needs if you are looking for a shorter term solution.
Kokomo, IN Home Elevator Installations
In addition to our chair lifts for stairs, we also provide residential elevator installations to people in and around Kokomo, Indiana. A home elevator can be the ideal mobility solution, and the benefits are multifaceted. You can get around your home in a comfortable and efficient manner, and you can also move items from floor to floor effortlessly. Plus, in addition to our home elevator installations, we also install commercial elevators and material lifts.
You may think of a home elevator as a response to a mobility challenge, but a residential elevator can be a home upgrade that improves your quality of life even if you can negotiate stairs without much trouble. Plus, a home elevator is an investment that will increase the value of your property.
Let's Discuss Your Home Mobility Needs!
We are here to help if you are looking for a home elevator, a wheelchair lift, or a stair lift in Kokomo, Indiana. You can call our chairlift experts right now toll-free at 800-730-5438 (LIFT). You can also click the following link to send us a message through this website: Kokomo, IN Stair Lifts.