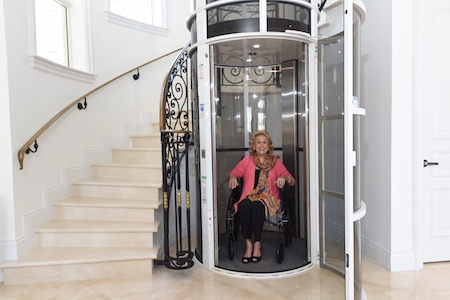 We partner with Pneumatic Vacuum Elevators, LLC, to bring you pneumatic vacuum elevators because they are soundly built and efficient to use. PVE combines physics and design. They created a transportation vehicle within a "bubble," which they have been manufacturing since 2002. There are three versions of the pneumatic vacuum elevators for varying uses:
Single-person use (up to 350-pound capacity)
Two-passenger (up to 450-pound capacity)
Wheelchair-accessible models (up to 525-pound capacity)
These elevators don't use conventional means for the lift function such as cables or pistons, This is the only elevator that is powered by one of the most abundant resources in the world… AIR!
Due to its minimal space requirement, fast installation, and a sleek panoramic design, the vacuum elevator goes where other elevators simply cannot.
220Volt single phase service required for elevator operation and all cabin electric circuits are 24 volts. The
Some of the main features of the PVE are as follows:
Installation within one to two days
No pit excavation, hoist-way, or machine room required
Two to four stops [35ft. (10.5m) total rise]
Ideal for new and existing homes due to the minimal space required to accommodate the structure
Self-supporting structure (freestanding on any level ground surface)
Consumes minimal energy during ascent and consumes no energy for descent
Modern design allows 360º visibility without cables or pistons that block vision
Minimal maintenance: no lubricants or regular service required
Absolute safety: in the event of a power failure, the elevator cab automatically descends to the lowest level and the electromechanical door opens to allow passengers to exit
Extremely smooth starting and stopping operations
ASME A17.7 Code Compliance Certified • Machinery Directive
Call Custom Home Elevator & Lift Company or complete the contact form today for an in-home consultation.